Implement a customizable RMS for your business that is both secure and feature-driven to empower traditional retail operations.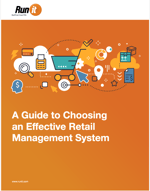 The decision to transition your entire operation can be overwhelming. Putting both monetary and security investments at risk, updating your retail management system (RMS) is a significant undertaking and all options must be thoroughly researched in order to ensure heightened productivity and streamlined inventory.
Runit has outlined a number of critical components to consider when looking for your new RMS software to help make the conversion more manageable, including the ability to:
Oversee multiple retail locations and facilitate immediate transfers between stores

Minimize security breaches with employee-access management features

Easily integrate the new RMS within existing technology stack to streamline information

Measure the effectiveness of pricing strategies with a variety of reporting tools
The wrong system can cause major disruption to business operations. Don't get stuck with a costly mistake. Download the eBook to determine what to look for when choosing an effective RMS and create a positive experience for employees and customers alike.
Fill out the form to download the guide and learn how to grow your business with a modern retail management system.