What Omnichannel Retailers Need to Know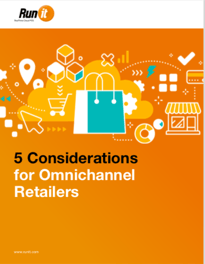 Offering a unified shopping experience across all channels and touchpoints – and being able to reach customers where they are – has become crucial for retailers to remain competitive in today's market.
But operating across multiple channels means that inventory, order fulfillment, and merchandising are far more complex processes. An omnichannel retail approach to customer-facing and internal systems is critical to sales and happy customers.
This eBook covers the five best practices retailers should follow to maximize the benefits of omnichannel retailing:
Integrate centralized inventory, order fulfillment, and merchandizing management across all channels.

Leverage a real-time inventory management system to ensure accurate stock levels across channels and gather valuable data insights.

Automate product merchandizing to increase efficiency and reduce errors.

Implement geo-routing capabilities to optimize online ordering and fulfillment processes.

Provide a seamless brand experience for customers across all channels.
Fill out the form to download the eBook and learn how you can ensure omnichannel success.