As every apparel and sportswear merchant knows, orchestrating the multiple variables of a retail operation into an efficient symphony of sales is no small task. However, integrating inventory management into a retail management software system can scale pivotal functions to facilitate larger retail management efforts.
In this inventory management guide for apparel and sportswear retailers, we'll share insights on how to achieve the following goals with strategic decisions and retail management technology: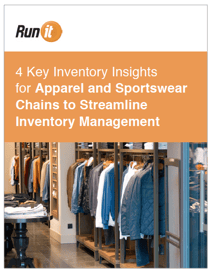 Maintain an optimum stock balance between stores with access to real-time inventory counts.

Improve client service utilizing a cloud-based customer management system to access customer preferences for greater insights.

Analyze current inventory trends and use buying patterns to increase sell-through and profitability.

Attract a loyal following with retail management software, special orders, and layaway services.
Download our inventory insights guide to learn how to use inventory technology to improve business efficiency and maximize profit margins.